As Norway mourned the victims today of the twin attack that killed more than 90 people on July 22, the 32-year-old Norwegian man arrested for the massacre was in court explaining his motives.
Although Anders Behring Breivik has reportedly admitted carrying out the attacks, he pleaded "not guilty" in the Oslo court, claiming he was not "criminally responsible."
Kim Heger, the Oslo district court judge in the case, ruled there is enough evidence to charge Breivik with intent to commit an act of terrorism.
"Despite the fact that the accused has acknowledged the actual circumstances, he has not pleaded guilty," Heger said. "According to what the court understands, the accused believes that he needed to carry out these acts to save Norway and Western Europe from, among other things, cultural Marxism and a Muslim takeover."
Heger ordered Breivik to be held in custody for eight weeks, including four weeks of solitary confinement, while preparations for the trial continued. Heger ruled there was a risk that Breivik would tamper with evidence if he were released on bail.
Heger also blocked media from attending the hearing -- effectively preventing Breivik from using the court as a political platform to air what has been described as an extreme right-wing and anti-Muslim ideology.
"The objective of the attacks was to give a 'sharp signal' to the people," Heger said. "The accused wishes to induce the greatest possible loss to the Labor Party so that it will limit new recruitment in the future. The accused explained that the Labor Party has failed the country and the people, and the price of their treason is what they had to pay yesterday."
Breivik's lawyer said Breivik wanted to tell his country and the world why he carried out a bomb attack in Oslo and then went on a shooting rampage at a summer camp for Labor Party youth.
He is formally charged with shooting dead at least 86 people -- most of them teenagers -- on Utoeya Island near Oslo. He also is charged with killing seven people hours earlier in a bomb attack near government offices in Oslo.
According to his lawyer, Geir Lippestad, Breivik believes the killings were justified, that "the actions were atrocious, but that in his head they were necessary."
Anti-Islam Extremist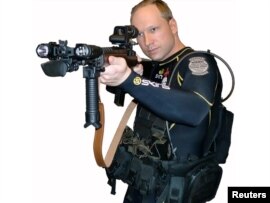 A picture of Anders Behring Breivik taken from a book downloaded from a link posted on the Norwegian discussion website freak.no, and titled "2083 -- A European Declaration of Independence"
Ahead of the court hearing, the memory of the victims was honored across Norway by a minute of silence.
Meanwhile, the stunned nation is trying to come to terms with how a person could kill so many of his fellow countrymen with no apparent remorse.
The profile of Breivik that is emerging from local media reports is of a right-wing Christian extremist who opposes multiculturalism and Islam, and who is angry about the growing number of Muslims in Europe.
Police told the daily "Aftenposten" that Breivik blames the Labor Party's Gro Harlem Brundtland -- prime minister for three terms between 1981 and 1996 -- for pluralist immigration policies that have led to the growing presence of Muslims in Norway.
They say Breivik admitted he wanted to kill Brundtland while she was making a speech on Utoeya Island on July 22. Brundtland, who is often called "mother of the nation," left the island before Breivik arrived.
Other press reports from Oslo are quoting excerpts from a 1,500-page manifesto that Breivik published just hours before the shooting rampage.
That manifesto called for a crusade against Muslim immigration to Europe. It also chronicled the events in Breivik's life that deepened his contempt for Muslims and "Marxists," whom he blamed for making Europe multicultural.
Did He Act Alone?
Norwegian Prime Minister Jens Stoltenberg during the weekend described Breivik's rhetoric as disturbing.
"Compared to other countries, I will not say that we have a big problem with right-wing extremists in Norway. But we have had some groups," Stoltenberg said.
Journalists also have been researching Internet postings made by Breivik in recent years that show critical views about Islam and Norway's immigration policies.
Correspondents note that part of Breivik's manifesto was taken almost word-for-word from the first few pages of the anti-technology manifesto written by Ted Kaczynski, the so-called "Unabomber" who is in U.S. federal prison for sending mail bombs in the United States that killed three people and injured 23 others from the 1970s to the 1990s.
Breivik has claimed that he acted alone and was not part of a larger right-wing extremist group. But police in Oslo say they are still investigating the possibility that Breivik had help from others to plan the attack, or that he has ties to other militant right-wing extremists in the country.
On July 25, police briefly detained six people for questioning in a series of raids in Oslo aimed at finding bomb-making equipment linked to Breivik. None of those raids turned up weapons or evidence justifying the continued detention of those six people.
compiled from agency reports
SHARE THIS
READ NEXT
U.S. Navy personnel have discovered the remains of an American aviator who was shot down in combat over the Pacific Ocean in 1944. A team aboard USNS ...