U.S. Secretary of State Hillary Clinton says the United States expects Pakistan to deny Afghan insurgents safe havens.
Speaking in Islamabad after meetings with Pakistani officials, she said the ability of insurgents to move across the border endangers both countries.
"We know that trying to eliminate terrorists and safe havens on one side of the border is not going to work," she said. "It is like that old story: you can't keep snakes in your back yard and expect them only to bite your neighbors. You know, eventually those snakes are going to turn on whoever has them in the back yard. We know that, on both sides of the border."
Clinton also claimed Washington had asked Pakistani officials to take action sooner rather than later.
"We had a very in depth conversation with specifics," she said. "We are looking forward to taking that conversation and operationalizing it over the next days and weeks -- not months and years, but days and weeks -- because we have a lot of work to do to realize our shared goals."
Clinton told reporters that she had specifically asked Pakistan to cooperate more on the issue of the Haqqani network, an organization of Afghan insurgents which Washington believes is based in Pakistan's North Waziristan tribal area.
"With respect to the Haqqanis, we both agreed that terrorism coming from any source is a threat to all of us," she said. "We expressed very clearly our concerns about safe havens on both sides of the border."
Clinton did not say if Washington had asked Pakistan to take military action against the Haqqani network -- something Islamabad has balked at in the past. But she maintained that cooperation could take many forms.
"It's not just military action," she said. "There is greater sharing of intelligence so we can prevent and intercept the efforts by the Haqqanis or the Taliban to try to cross the border or to plan an attack," said Clinton.
Haqqani 'A Veritable Arm' Of Pakistani Intelligence
Clinton also asked for Pakistan to help enlist Afghan insurgent groups in Afghanistan's peace dialogue.
The request suggested that this, too, might be an alternative to Pakistan's taking military action.
The state visit to Pakistan comes after relations between Pakistan and the United States deteriorated dramatically over the May 2 American special forces raid that killed Osama bin Laden near Islamabad and Washington's accusations over an assault on the U.S. Embassy in Kabul on September 13.
The then top U.S. military officer, Admiral Mike Mullen, called the militant Haqqani network a "veritable arm" of Pakistan's Inter-Services Intelligence (ISI) agency and accused its spies of being involved in the embassy siege.
Pakistani Foreign Minister Hina Rabbani Khar, who appeared with Clinton, rejected such charges at a press conference on October 21. She said that no elements within Pakistani institutions support safe havens
Nonetheless, she added that "terrorists exist on both sides of the border" and that Pakistan and the United States "need to cooperate together to be able to achieve results?"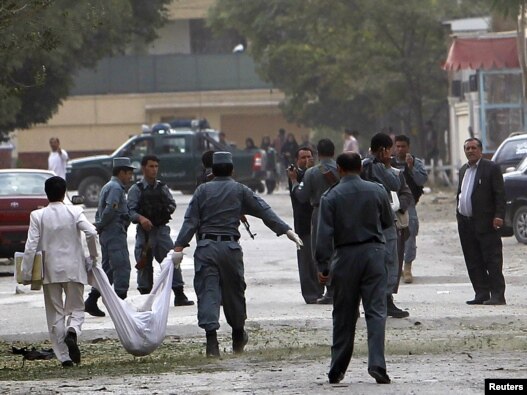 Afghan policemen carry the body of a suicide attacker at the site of a suicide attack in Kabul's embassy district which the United States says was carried out by the Haqqani network.
??Pakistan says it has so far refused to open a new offensive against the Haqqani network in its leadership base in North Waziristan only because its troops are too overstretched and because the country has already sacrificed too many lives in the war on terror.
High-Level Delegations And Top-Level Discussions
The top diplomats' remarks come after talks on October 21 and what Washington called a day of "extremely frank" discussions between U.S. and Pakistani officials on October 20.
Clinton has been accompanied by a high-level delegation of senior officials from the State Department, Pentagon, and White House including CIA chief David Petraeus and Joint Chiefs of Staff Chairman General Martin Dempsey.
Observers in Pakistan see the top-level nature of the delegation as a measure of Washington's desire to overcome differences with Islamabad and forge a stronger counterterrorism policy.
"I think the high-level delegation that has come with Hillary Clinton underlines the importance that the United States gives to Pakistan's cooperation for counterterrorism," said foreign policy and international affairs analyst Hasan Askari. "Also they have differences over management of terrorism policy and somehow they want to impress upon Pakistan [the need] for full cooperation, because full cooperation is not really forthcoming from the Pakistan side."
Clinton's visit to Pakistan follows a stop in Kabul on October 20, where she met with Afghan President Hamid Karzai in Kabul.
There, too, she called on Pakistani leaders to crack down on militants, especially groups like the Haqqanis that are blamed for attacks on American targets in Afghanistan.
The Haqqani group, which denies it still has safe havens in Pakistan, has emerged as the most high-profile threat to American interests in the region since bin Laden's death.
with agency reports and reporting by RFE/RL's Radio Mashaal
SHARE THIS
READ NEXT
U.S. Navy personnel have discovered the remains of an American aviator who was shot down in combat over the Pacific Ocean in 1944. A team aboard USNS ...